Welcome to Life Rituals Clinic
Life Rituals is a warm, welcoming clinic with an integrated care approach that can offer you many health services under one roof, with every practitioner qualified, insured and experienced in their field.
We cross-refer patients, share knowledge and offer the patient more by being part of a team of different disciplines; sometimes, it is a combination of approaches that will help speed up recovery or be more supportive in long-term complex and chronic health conditions.
We Offer –
Acupuncture, Osteopathy, Medical Herbal Medicine, Counselling, Nutritional Therapy, Reflexology, Indian Head Massage, Reflexology, Myofascial Cupping, Zone Face Lift and Holistic Facials.
And – GP Occupational Health Assessments and support for employers.
For a Free 15-minute Exploratory Call with any of our experienced practitioners at Life Rituals. Or email any practitioner using their firstname@ liferituals.co.uk.
View Individual Practitioner Pages Here
We have expert knowledge and experience in the following areas:
Couples Fertility
Cardio Vascular Health
Womens Health Gynaecology, miscarriage, PMS, PCOS, fibroids, menopause, painful/heavy/irregular periods, urinary issues
Headaches and Migraines
Pregnancy and Childbirth
Musculo Skeletal Health – Acute/degenerative
Digestive Issues
Metabolic Disorders – Weight Loss
Skin Complaints – Exceama/allergies
Mental Health – Anxiety/depression, bereavement
Children's Health
Pre-Post Operative Health Care
Chronic & Acute Auto-Immune Conditions
Complex Chronic Health Issues
Where to find us:
In the heart of Oakham, our attractive, welcoming character building on Mill Street is beautifully renovated to provide comfortable and relaxing spaces where clients can meet with our practitioners. We have a small but beautiful waiting area, with a ground floor and two first-floor treatment rooms.
Mill Street has some beautiful local shops and cafes.
There is free 1-hour parking in Mill Street and paid car parks within a 2 mins walk. We are 8 mins from Oakham train station, and Oakham is just off the A47, easily accessible from many areas such as Stamford, Leicester, and Peterborough.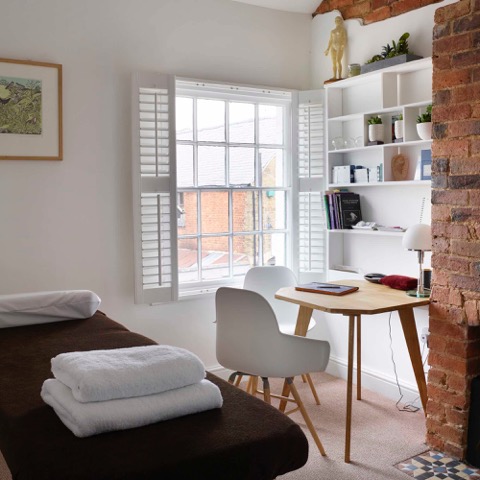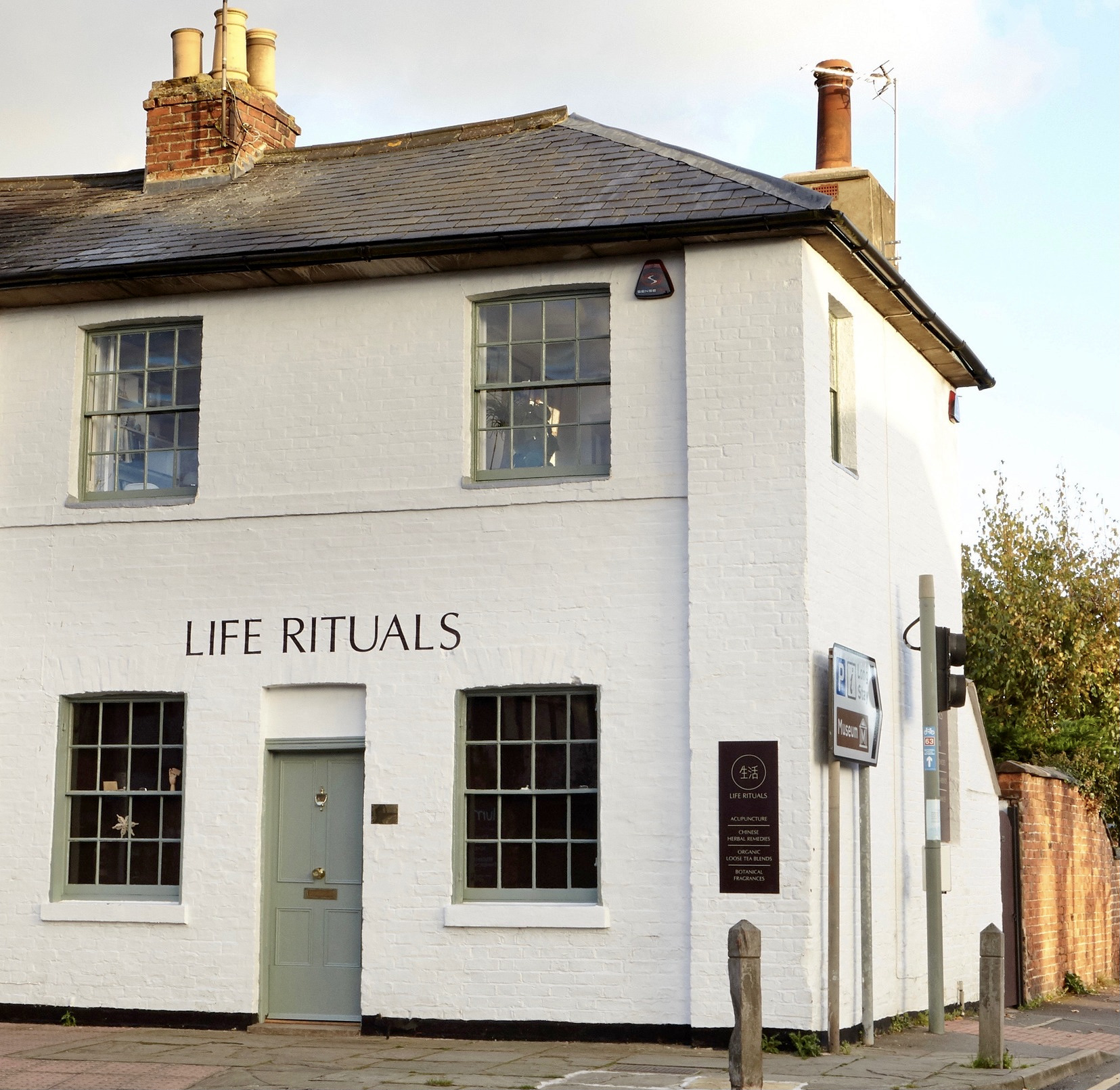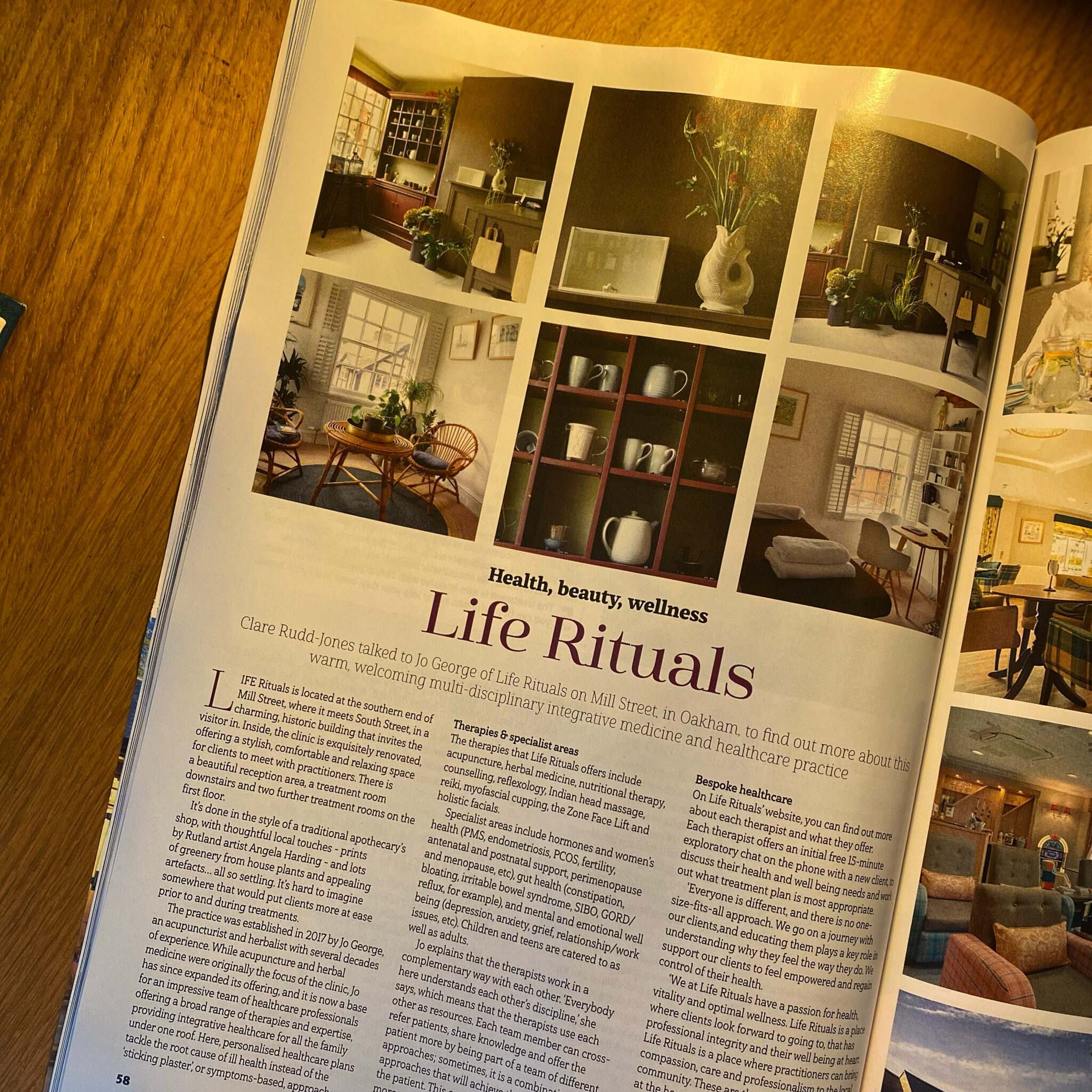 ---
Appointments or Enquiries
---
About Life Rituals
Life Rituals was founded by Jo George, an acupuncturist and herbalist of over 23 years.
Life Rituals is a place that clients look forward to going to, where practitioners in different disciplines come together to bring compassion, care and professionalism to the local community.
These ideals and values are at the heart of what we do!
To find out more about our therapies.
Please read about our professional team by visiting their pages to find out what they offer, enquire about their availability, and book an appointment. Remember, you are welcome to speak to any of them free of charge to explore your particular health and well-being needs.
Call 01572 868 579